A dozen years ago, Rev. Jim West published
Drinking With Luther and Calvin
to show how
the Reformers' view of alcohol was far different from what came to dominate in many American Protestant churches following the Temperance Movement.
West's book was a fitting sequel of sorts to Kenneth Gentry's 2000
God Gave Wine: What the Bible Says About Alcohol
, and it also set the stage for Brad Whittington's 2013
What Would Jesus Drink?
No list of comparable publications exists within the Catholic world; apparently, there is little doubt about Catholicism's attitude regarding the Drink. The Catechism of the Catholic Church does not condemn fermented or distilled beverages, only their abuse by way of excess (CCC 2290). Indeed, one of the Church's seven sacraments necessitates alcohol. The Eucharist is the body, blood, soul, and divinity of Jesus Christ, but it must start out as bread and wine. 
But aside from this sacramental requirement and a few aging Irish stereotypes, is there really a strong link between Catholicism and alcohol, and if so, why? And what does that mean for us today? Such are the questions animating this essay. We begin with a survey of the historic impact that Catholicism has had on the production and development of alcohol.
A Wet History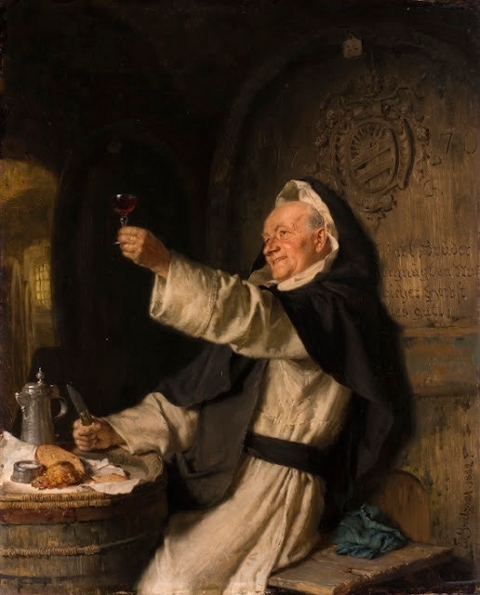 Although the purpose of the Catholic Church is to bring souls to Heaven, she has also made life here on earth more pleasant in a number of ways. Consider the following:
Wine predates Christianity by centuries, but it was monks who largely preserved viniculture during the Middle Ages. Religious orders such as the Benedictines and (later) Jesuits became expert winemakers; many only quit because their lands in Europe were confiscated by the modern State in the name of secularization.
Pressed by the duty to celebrate the Eucharist, Catholic missionaries brought their knowledge of vine-growing with them to the New World.
Wine grapes were first introduced to California by Blessed Junipero Serra and his Franciscan brethren, and the rebirth of the California wine industry after Prohibition was thanks in large part to a chemistry teacher and LaSalle Christian Brother named Brother Timothy. There are similar stories about the origins of vineyards in Argentina and Australia.
The Jesuits, for instance, founded the oldest winery in South Australia's Clare Valley when they purchased 100 acres of land in 1851 and planted a vineyard to make sacramental wine. Named Sevenhill Cellars after the seven hills of Rome, the operation is still supervised by a Jesuit with the title of Winemaker and produces "notably sturdy Cabernet Sauvignons of high colour, huge flavor and long life."
Pious men not only preserved and promulgated oenology; they also advanced it. The
méthode champenoise
was invented by a Benedictine monk whose name now adorns one of the world's finest champagnes: Dom Pérignon. According to the story, when he sampled his first batch, Perignon cried out to his fellow monks: "Brothers, come quickly. I am drinking stars!" Monks and priests even found new uses for the grape. The Jesuits, for instance, are credited with improving the process for making grappa in Italy and pisco in South America (both of which are grape brandies).
Similarly, although beer may have been invented by the ancient Egyptians, it was perfected by the medieval monasteries that gave us modern brewing as we know it: one saint (Arnold of Soissons) has even been credited with inventing the filtration process. To this day, the world's finest beer is made within the cloister—specifically, within the cloister of a Trappist monastery. Other orders, such as Carmelites and the Paulaner monks, have contributed very fine beers as well.
Equally impressive is the Catholic contribution to distilled spirits. Whiskey was invented by Irish monks, who probably shared their knowledge with the Scots during their missions. Chartreuse, the world's most magical liqueur, was perfected by Carthusian monks and is still made by them. Bénédictine D.O.M. was invented by Dom Bernardo Vincelli to "fortify and restore weary monks." Frangelico, which today comes in a brown bottle shaped like a monk, was invented by a hermit of that name during his solitude by experimenting with various nuts, herbs and berries he had gathered. Rompope, a kind of Mexican eggnog, was invented by nuns in Mexico when it was still a Spanish colony.
Maraska liqueur was invented by Dominican apothecaries in the early sixteenth century.